---

To read in English, please follow down the blue writes, TNX!
---
---
MARTIN VIBROPLEX, late named ORIGINAL Model.
Il Martin Vibroplex, od Original Model come venne rinominato alla nascita della The Vibroplex Company, è un tasto che è parte imprescindibile della storia della telegrafia mondiale.
Il brevetto del Martin Vibroplex risale al 1906, ma il tasto era già in produzione dal Maggio del 1905.
L'original nonostante siano passati oltre cento anni dalla sua creazione è un modello che la Vibroplex ha ancora oggi in produzione.
Nel cors odi questo secolo vi sono state solo alcune piccole modifiche o aggiustamenti rispett oal primo Original prodotto, ma il modello di base è sempre quello del 1905.
Di queste differenze avremo modo più avanti di confrontarle e desciverle con delle foto.
Il Vibroplex era stato progettato per trasmettere con una velocità  che di norma può variare dai 20 wpm ai 50 wpm ed il suo perfetto funzionamento e' legato principalmente ad una accurata  registrazione e dalla capacita' di adattamento dell'operatore che oltre a conoscere la telegrafia deve anche amarla e sentirla sua.
Oggi, gli operatori che usando questo tasto semiautomatico sono di fatto rimasti solo i radioamatori amanti della telegrafia che con passione ed un po' di pratica, possono rivivere l'emozione che un secolo fa gli operatori delle poste e ferrovie del Nord Amercia hanno vissuto con l'espansione del servizio telegrafico prima e radiotelegrafico dopo allargandone l'uso anche e specificatamente sulle navi civili, mercantili e militari.
Il possesso di una chiave Vibroplex, od in genere di un semiautomatico ci renderà partecipi di una tradizione e di una storia che di fatto non è mai tramontata, ma che anzi pian piano si riscopre sempre di più.
Novembre 2012.
---
MARTIN VIBROPLEX, 
finitura japaned con targa 1904.
Oltre al Martin Vibroplex presente nella pagina iniziale, qui sotto noterete uno dei primi Vibroplex prodotti da Horace Martin.
La base è di colore nero con la classica finitura Japaned ancora visibile dopo oltre 110 anni, senza numero di serie.
Dalle foto si possono osservare i particolari tipici dei primi modelli :
Il frame squadrato con le viti di blocco, abbandonate di li a poco, sostituite con i dadi di contrasto;
l'articolato, quanto caratteristico disegno del dumper e dei terminali;
Il rivetto di fine corsa per la leva di cortocircuito, presente solo nei primi modelli prodotti.
A seguire c'è un altro Martin Vibroplex in versione Nichelata.
Add Feb 2017
---

MARTIN VIBROPLEX - ORIGINAL Model.
The Martin Vibroplex, Original model as it was renamed to the birth of The Vibroplex Company, is a key that is a part of the history of telegraphy.
Martin Vibroplex ask the patent in 1904, received the patent back in the 1906, but the key was already in production since May of 1905.
The original despite more than 110 years and have passed since its creation is a model that the Vibroplex is still in production today.
In this century ocorse, this project have submite only a few minor changes or adjustments follow exact of first Original product, but the basic pattern is like of a Key product in 1905.
These differences we will later to compare them and descipt with a photo.
The Vibroplex was designed to transmit at variable rate that can change with movement of Its weight on principal Arm, It have a large vary spped from 20 wpm to 50 wpm and its perfect functioning is linked mainly to the accurate reegulation and adaptive capacity of the operator who besides knowing telegraphy must also love it and feel it.
Today, operators using this semiautomatic key are in fact only radio amateur, telegraphy lovers with passion for this transmitting mode, They can relive the excitement that a century ago postal operators and railways of North America have lived with the expansion of the telegraphic service before and after radiotelegrafic broadening the use and specifically civil ships, military and merchant.
Possession of a Vibroplex key, and typically a semiautomatic will make us partakers of a tradition and a history which has never waned, but rather gradually rediscovers more and more.
In the upside you will see one of first Martin Viboplex product with Nichel plate finished, year 1905.
February 2012.

MARTIN VIBROPLEX 
japaned finished  with 1904 plate.
In addition to the Martin Vibroplex on the start page, you will see below one of the very first Vibroplex bug produced by Horace Martin.
The base have the black fcolour with the classic Japaned finish still visible after over 110 years. This bug don't have serial number.
By the photos under, you can see the typical details of the first models:
Following this bug, do you will see another Martin Vibroplex in nickel-plated version.
Add Feb. 2017
First Martin Vibroplex bug
Martin Vibroplex bug
First Martin Vibroplex bug
First Martin Vibroplex bug
Martin Vibroplex, particular of first bug plate " A0 "
Martin Vibroplex, particular of very early terminal design
Martin Vibroplex, early square frame with block scews system
Vibroplex, particular of very early Dumper design, with screw bug
First Martin Vibroplex, particular of japaned draft
---
MARTIN VIBROPLEX, nichel plate  1905
Sono rimasto da subito incuriosito nell'osservare il tasto sotto esposto.  Nel 1905 il primo Vibroplex prodotto era con finitura nera, mentre quello in oggetto sembrava stranamente di color grigio.
Ho chiesto così ulteriori informazioni a collezionisti più navigati di me, ed uno di questi Martin Odenbach, mi ha assicurato prima dell'acquisto che si trattava di un Martin Vibroplex originale, prodotto in versione Nichel.
Il Nichel aveva quel particolare colore, perchè il "bagno" non era stato eseguito nel suo momento migliore.
Durante la fase di deposito la miscela probabilmente satura ha dato  un aspetto differente dal classico color nichel lucente, ma ha assunto invece un effetto pastello somigliando molto ad una vernice di color grigio.
Ringrazio Martin Odenbach per avermi consigliato di aggiungere questo ottimo esemplare alla collezione, ancora bello e funzionante dopo quasi 110 anni di servizio.
Marzo 2013.
---

MARTIN VIBROPLEX, nichel plate  1905
First time that I've see this key It was captured immediately  because during 1905, the Vibroplex product only Key in black finished, while the one in question seemed oddly colored gray .
I asked more information as to the most expert collectors, and one of these is dear firend Martin Odenbach assured me before buying, that this is one Martin Vibroplex original product in nickel version .
Nickel had this particular color because the "immersion" was not in his best time so during the phase of deposit took one aspect that does not shine like would you like to, but rather instead issuing like pastel-effect, very same of gray color paint.
I thanks Mr. Martin Odenbach DK4XL for suggesting this excellent specimen of Martin Vibroplex .
I'ts a very beautiful and functional after 110 years of service.
March 2013.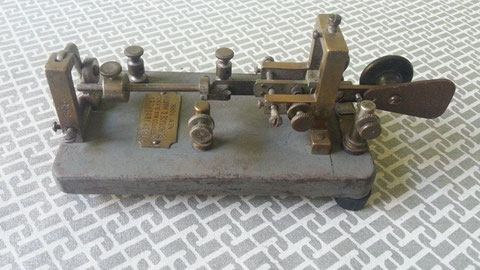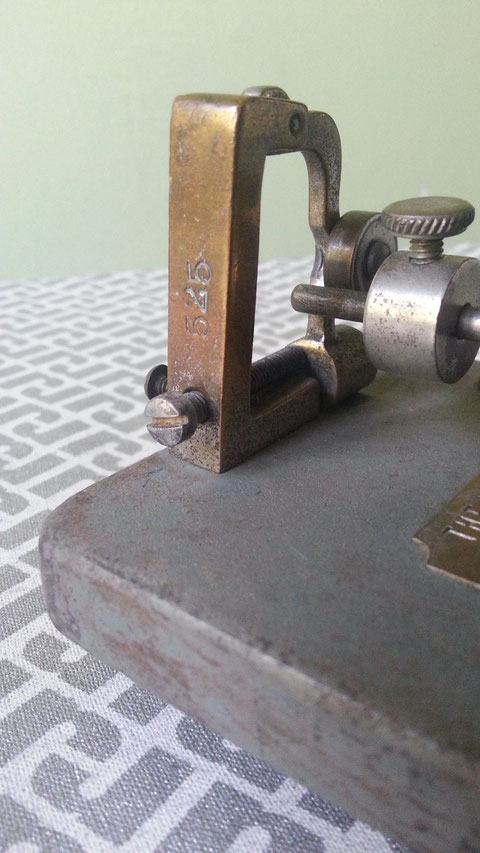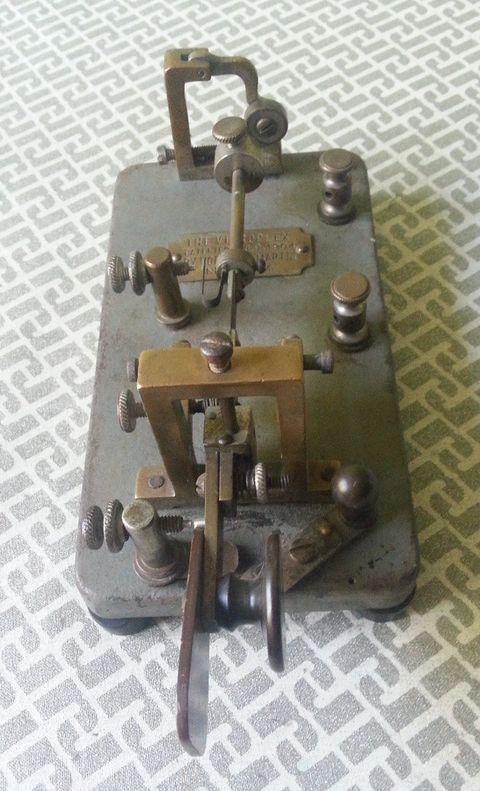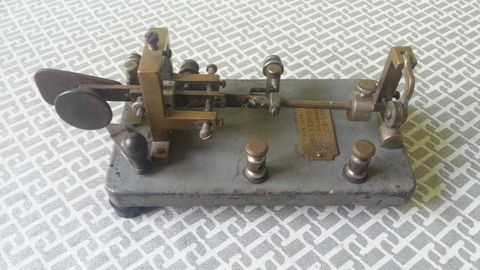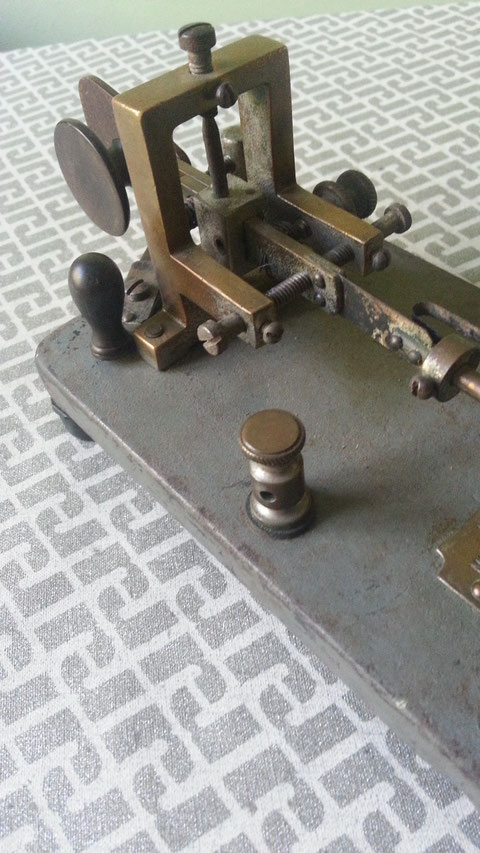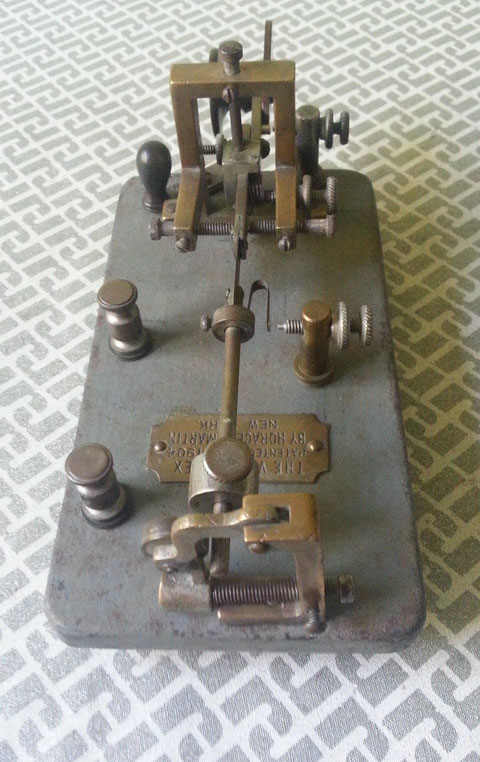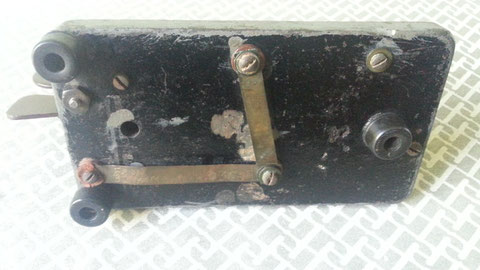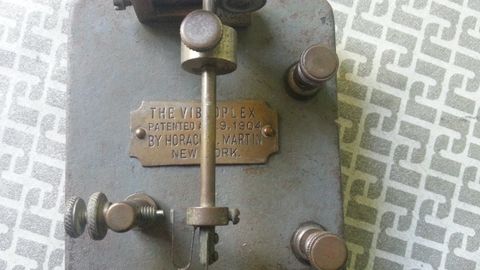 ---
MARTIN VIBROPLEX con base sottile - 1907
Questo è parte integrante della storia della U.E.M. e di Horace Martin.
Si tratta di un Martin Vibroplex (poi denominato Original) che Martin costruì con la base "sottile" per alleggerire la chiave che i telegrafisti dovevano portarsi a lavoro ogni giorno lavorativo.
Per supplire al calo di peso dovuto al nuovo tipo di base, Martin dotò questa chiave di una gamba stabilizzatrice.
La gamba stabilizzatrice è stata utilizzata si per i Martin Vibroplex che per i primi modelli di Vibroplex Double Lever a base sottile, nessun'altra chiave è stata mai più equipaggiata con questo accessorio.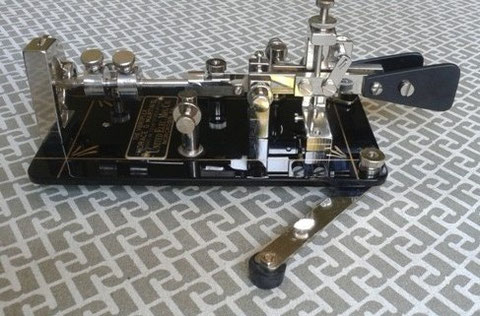 Vibroplex D.L. "half frame" base sottile con gamba stabilizzatrice.
Altra particolarità della chiave è la molla dei punti, dalla particolare forma, ritrovata uguale solo in altro esemplare di Martin Vibroplex.
La targa applicata a questa chiave è catalogata A3 con il numero seriale 3180. Questa è esattamente l'ultimo numero seriale utilizzato per questa targa A3, quindi è l'ultima chiave prodotta da Horace Martin nelle officine di New York, site al N.53 di Vasey St. nell'anno 1907.
Questa è per me una pietra miliare nella storia della UEM, è uno spartiacque tra la produzione di New York e quella di Norcross.
Martin si sposta in Georgia per via di un allettante accordo di compravendita da parte di un suo amico ex telegrafista Eduard Buchannan, appena diventato ricco per delle fortunate speculazioni di borsa.
Buchannan cercando di allargare i suoi affari anche nel campo telegrafico, convince Martin a trasferirsi in uno dei suoi capannoni vicino al deposito ferroviario di Norcross per produrre li i suoi tasti ed competere al meglio contro le società concorrenti.
Ma le fortune di Buchannan si sciolsero velocemente come neve al sole e solo dopo un anno la U.E.M. fallì seguendo le sorti del proprietario.
Martin dal canto suo in quell'anno pensò solo a produrre senza preoccuparsi dell'Azienda e infatti a Norcross mise in produzione il brevetto 457 e mise poi subito in produzione anche il primo Double Lever.
Tutto questo ha fatto si che le chiavi con le etichette Norcross o Atlanta sono le più ricercate per via della loro rarità legata al brevissimo periodo di produzione.
Ritornando al Martin Vibroplex thin base è stato quindi prodotto per un brevissimo periodo a cavallo tra New York e Norcross.
Si conosco ad oggi in collezione solo 8 di esemplari di Martin Vibroplex con base sottile, 3 con la targa Norcross e  4 con la targa A3, per completare il dato ci sono altri 3 Vibroplex D.L. a base fine per un totale di 11 Bug con la base sottile e non un altro di più.
Se sei interessato alle targhe U.E.M. e Vibroplex, clicca qui.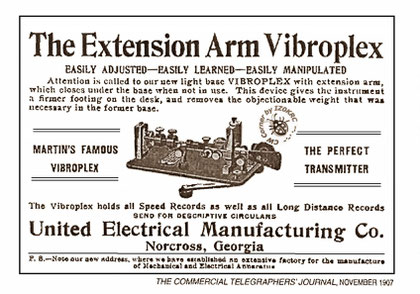 MARTIN VIBROPLEX, Thin base 1907
This key is an integral part of the history of the U.E.M. and Horace Martin.
It is a Martin Vibroplex, (later called Original) Martin built this key with the "thin" base to light the weight of key, because the telegraphists had to take to work every working day.
In order to compensate the weight loss, Martin equipped this key with extencion arm.
The extencion arm was adopt also in the first Vibroplex D.L. produced and first Martin Vibrplex, no other bugs had build with this optional.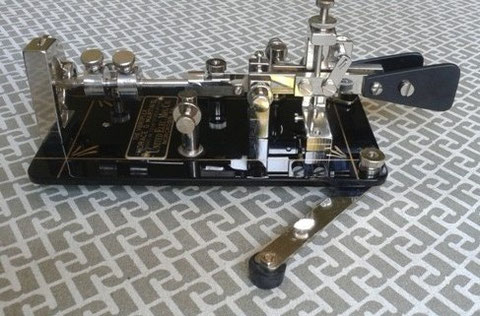 Vibroplex D.L. thin base half frame with extension arm.
Another peculiarity of this key is the spring of the points (dit) found with same shape only in another Marti nVibroplex bug.
The plate applied to this key is cataloged A3 with the serial number 3180. This is exactly the last serial number used for this A3 plate, so it is the last key produced by Horace Martin in the New York workshops, located at N.53 of Vasey St. in the year 1907.
This is for me a milestone in the history of UEM, it is a bridge between old production of New York and new production in Norcross. (GA).
Martin moves to Georgia due to an attractive purchase agreement by his former telegraphist Eduard Buchannan, who has just become rich due to stock market speculation.
Buchannan, trying to expand his business also in the telegraph field, convinced Martin to move to one of his warehouses near the Norcross railway depot to produce his keys and compete against the against companies like Mecograph and others.
But Buchannan's fortunes quickly melted like snow with the sun and only a year later the U.E.M. he failed following the unlucky of the owner.Buchanna's.
Martin, meanwhile, only thought to produce without worrying about the company, and in fact at Norcross he put into production the patent 457 and then immediately put into production the first Double Lever semiautomatics key.
All this has meant that the keys with the Norcross or Atlanta labels are the most rare because their rarity linked to the very short production period.
Returning to the Martin Vibroplex thin base it was produced for a very short period between New York and Norcross.
There are today only 8 pieces of Martin Vibroplex with a thin know in the collection, 3 with the Norcross plate and 4 with A3 plate. To complete the data there are 3 other Vibroplex D.L. thin base for a total of 11 bugs with a thin base and not another one more.
If you are interested in the U.E.M. and Vibroplex plate, click here.
08 Febbruary 2019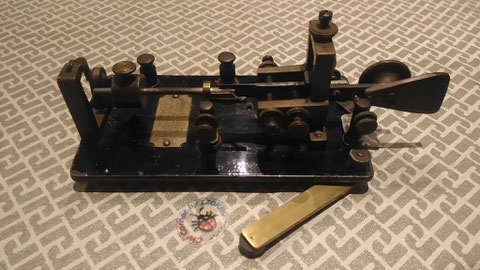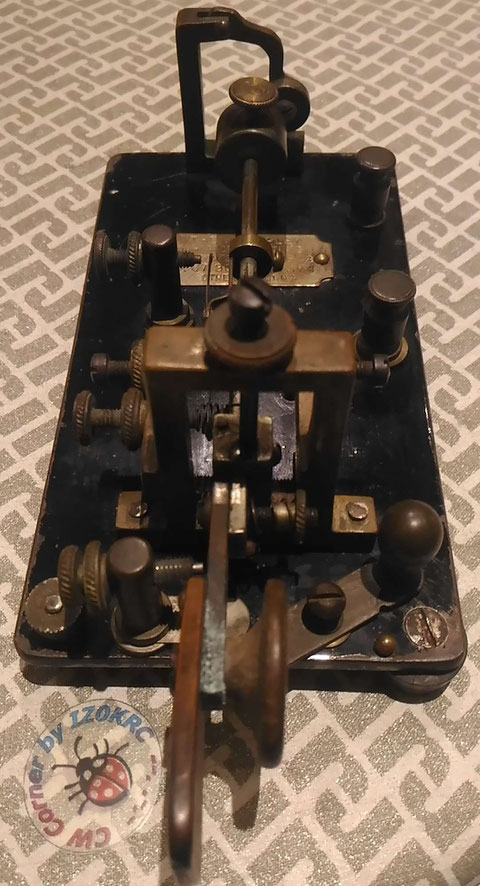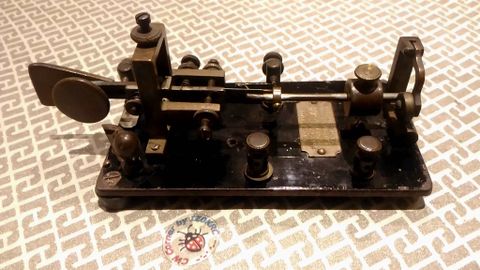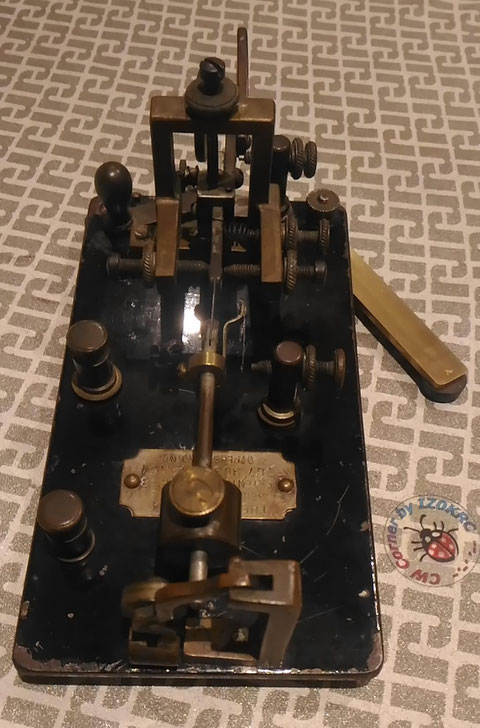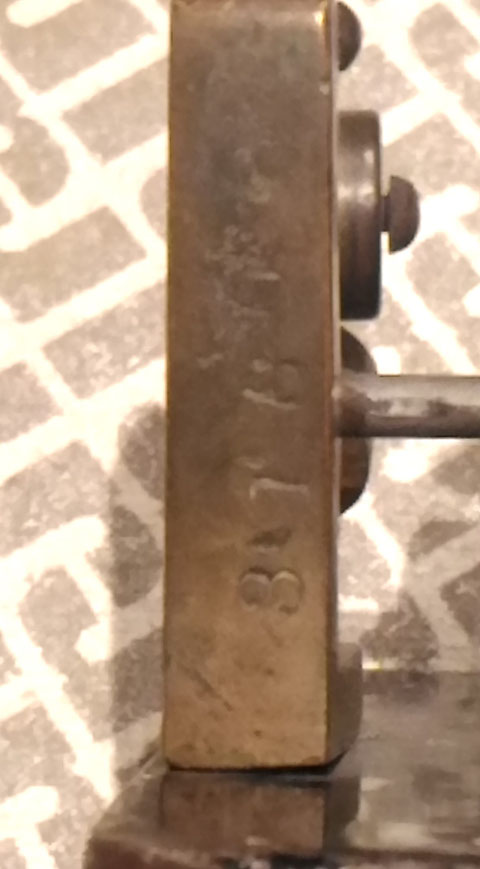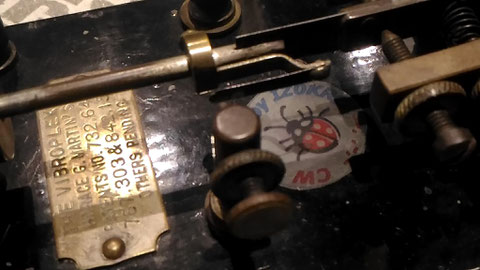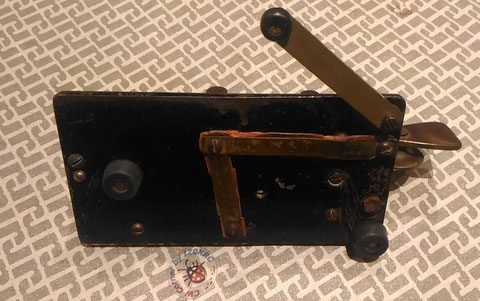 ---
---