---

---
---
The Double Lever or #02 project.
Il secondo modello prodotto da Horace Martin e la sua U.E.M. era un progetto tutto nuovo è si presenta con due leve separate, una per i punti (dit) e l'altra per le linee (dath) , da qui il nomine "Doppia leva", "Double lever" in Inglese.
La produzione del Double Lever inizia nel 1907, quando Horace Martin si era trasferito nella città di Norcross in Georgia.
La produzione continua sino al 1926, anche se probabilmente da dopo il 1920 ne sono stati venduti alcuni esemplari, probabilmente su richiesta.
Il Doppia Leva ha avuto nel corso della sua storia tre varianti principali :
La prima versione, prodotta a Norcross. Si distingue per il suo insolito frame a metà o "half frame", considerato tra i collezionisti uno tra i tasti più rari della Vibroplex. La produzione Georgiana ha in più altre varianti di produzione, la base fina "thin base" o la base comune "tick base".
          Come noto i Vibroplex Georgiani sono i più rari e                ricercati in quanto prodotti in periodo ristretto                    (1907-09). 
Vi è poi il Double Lever "early type" prodotto dal  1910 - al 1919, si contraddistingue per il suo frame di forma squadrata "Square frame", prodotto poco prima che Horace Martin torna a New York ed inizia con Albright una nuova storia chiamata Vibroplex.
         Si sono ritrovati anche Double Lever "square frame"           con targa Norcross, a testimonianza che a Norcross           Horace Martin ha ideato due diversi modelli di                   Doppia Leva.
Perché Martin progettualmente torno indietro "ripercorrendo i suoi passi ?"
Con Il Martin Vibroplex aveva di fatto risolto il problema di produrre punti e linee con un solo braccio.
Perché allora creare due leve ?
Martin si trovava in quel momento nel suo periodo di massima creatività e riteneva opportuno creare un tasto che poteva creare linee e punti in modo svincolato l'uno dall'altro. L'intento era di "catturare" l'attenzione dei telegrafisti meno inclini all'innovazione, ma anche di perfezionare il suo progetto di tasto semiautomatico.
Il Double Lever è l'esempio di "un grande semiautomatico" che trasmette in pieno tutto il fascino del tempo.
Aprile 2013

The second model produced by Horace Martin and his U.E.M. Company is the Double Lever, it was new project, it have two separate levers, one for the points (dit) and the other for the lines (dath), hence the name "Double lever"..
The production of the Double Lever began in 1907, when Horace Martin had moved to the city of Norcross in Georgia.
The production continued until 1926, although probably after 1920, some specimens were sold, probably after direct order.
The Double Leva had three different versions:
The first version, produced at Norcross. It is distinguished by its unusual half-frame or half-frame, considered among the collectors one of the rarest keys of the Vibroplex. The Georgian production has in addition other production variants, the fine base "thin base" or the common base "tick base".
          As is known, the Georgian Vibroplex are the rarest and most
          sought after products produced in a limited period (1907-
          09).
Then there is the "early type" Double Lever produced from 1910 - to 1919, distinguished by its square-shaped frame "Square frame", shortly produced before Horace Martin returns to New York and begins with Albright a new story called Vibroplex .
         They also found Double Lever "square frame" with a Norcross
         plaque, proving that at Norcross Horace Martin has devised
         two different models of Double Lever.
Why Martin "retracing his steps"?
With Martin Vibroplex he had actually solved the problem to produce points and lines with only one arm.
Why then create two levers?
Martin was at that moment in his period of maximum creativity and thought it appropriate to create a key that could create lines and points in a way free from each other. The intent was to "capture" the attention of the telegraphists who are less inclined towards innovation, but also to refine their semi-automatic key project.
The Double Lever is an example of "a large semi-automatic" that fully transmits all the charm of time.
April 2013
---
The DOUBLE LEVER, half frame with thin base.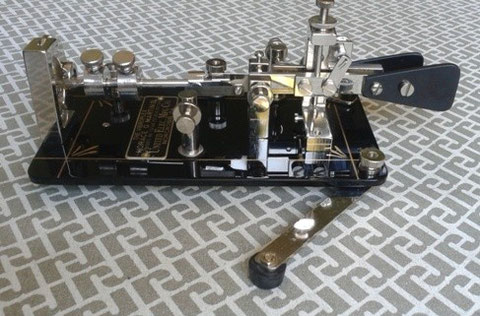 Questo è il primo modello di Double Lever nato dalle officine U.E.M. di Norcross (GA).
Si tratta di un Bug D.L. " half frame thin base " (metà frame a base sottile)  con braccio di stabilizzazione.
Ovvio che questo modello sotto il profilo del collezionismo è un pezzo molto ambito, se ne conoscono ad oggi solo due esemplari.
E' grandioso poter vedere la complessità di esecuzione Bug a doppia leva, un progetto straordinario.
Mi sfugge il perchè Horace Martin nel tempo ha poi modificato questo progetto ?
Quello che vedete in questa foto è una fedele realizzazione del caro amico DK4XL Martin Odenbach.
Una realizzazione effettuata con dovizia anche nei minimi particolari.
Clicca qui per vedere la pagina dedicata a Martin Odenbach DK4XL.

The Key above is the first Double Lever model born in U.E.M. workshop of Norcross city (GA).
It's a Half frame, thin base with stabilizing arm.
Of course this models for collector a very rare piece to descovery.
today know to esist only two of this kind of bug.
Is great to see the complexity ofthis first Double_Lever, an extraordinary project.
I don't understund why Horace Martin over time has changed this project?
In this photos you will see a true realization of dear friend DK4XL Mr. Martin Odenbach.
 
A great achievement made even the smallest details.
Click here to see the page dedicate to Martin odenbach DK4XL.
April 2013 - Page Update 20 Oct. 2017.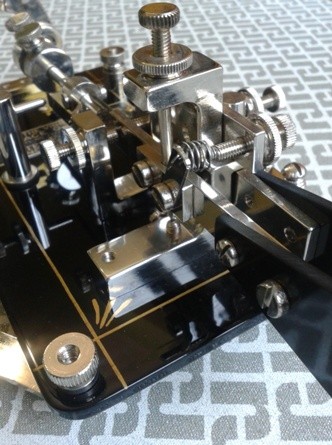 ---
The DOUBLE LEVER, square frame model
Tasto Doppia Leva, con frame quadrato, completa e perfettamente conservata.
Conserva ben evidenti le linee ed i disegni della finitura Japaned 
Double Lever key with square frame, complete and in mint condition. It have the lines and designs of Japaned finished well evident.
April 2013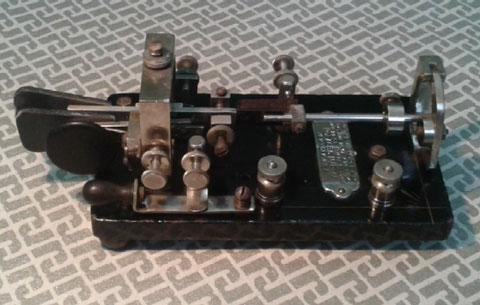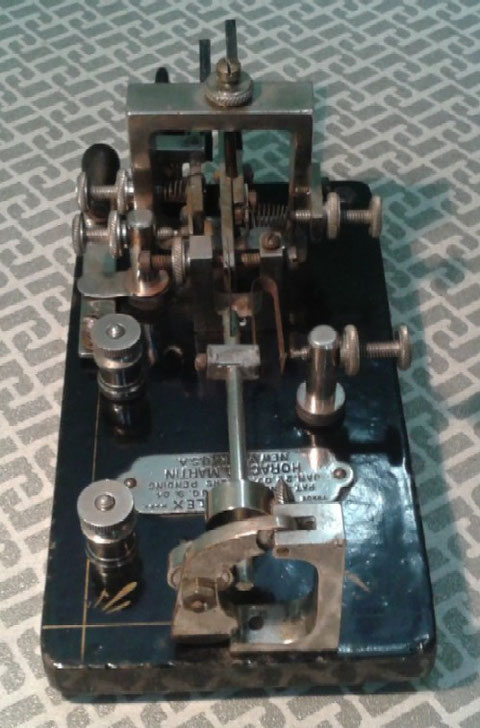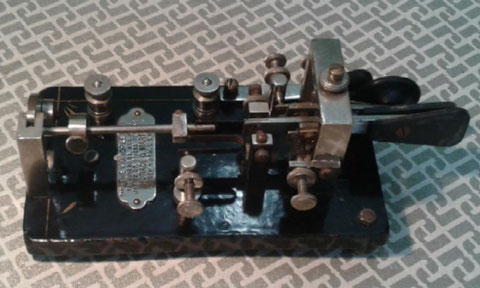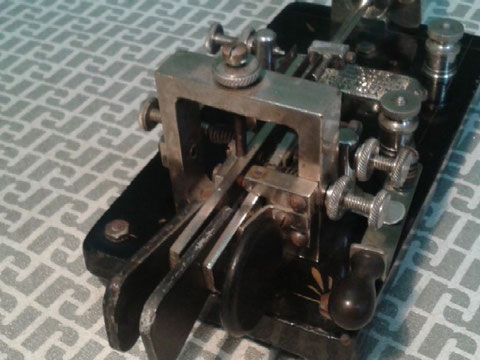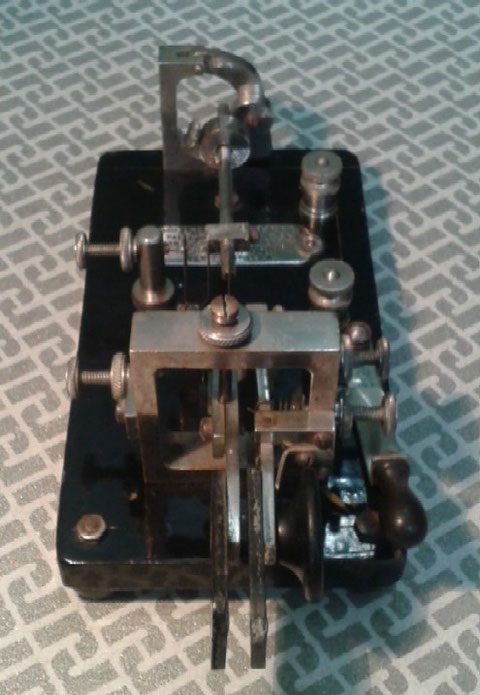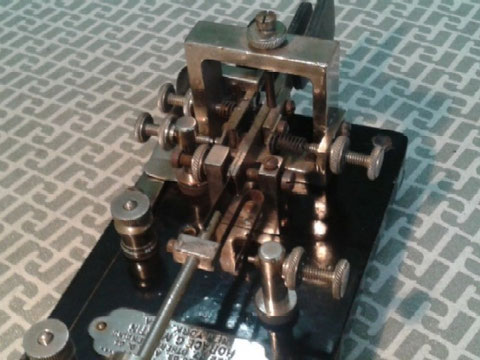 ---
The DOUBLE LEVER, cloverleaf frame
Tasto doppia leva ritrovato in condizioni impeccabili, pari al nuovo.
Appartenuta alla Western Union, come da scritta sulla zeppa W.TEL.CO., completa di scatola originale per il trasporto.
Nonostante è una chiave che ha lavorato molto, il suo proprietario l'ha mantenuta in modo impeccabile, conserva ancora il Decal Vibroplex e la finitura Japaned.
Double lever key found in mint conditions, aper like new.
Belonging to the Western Union, as written on the W.TEL.CO. on the wedge, complete with original carring case.
Although it is a key that has worked hard, its owner has kept it impeccably, still retains the Decal Vibroplex and Japaned finish.
24 February 2019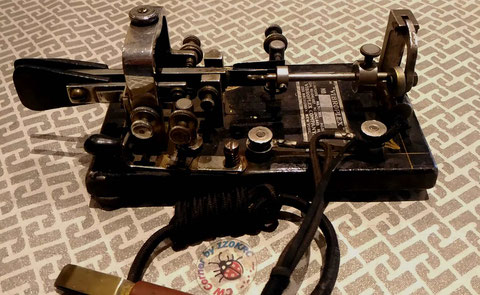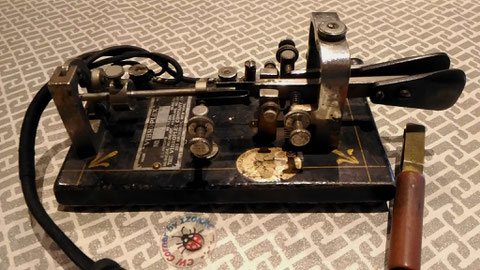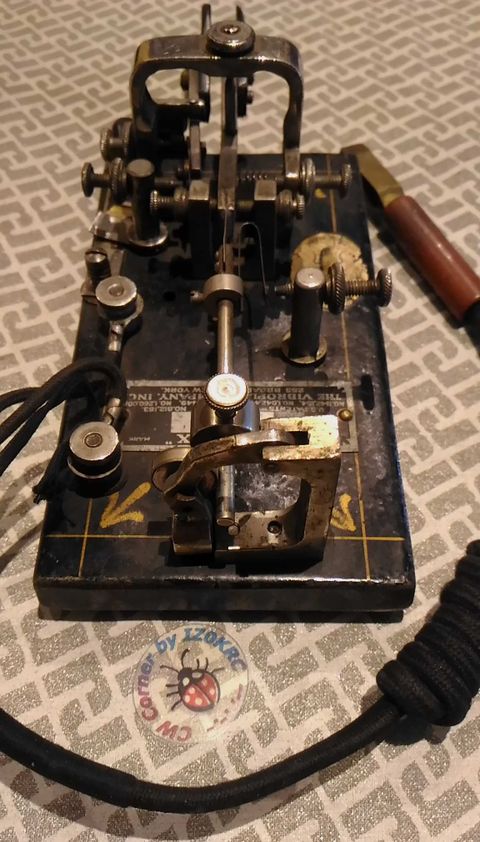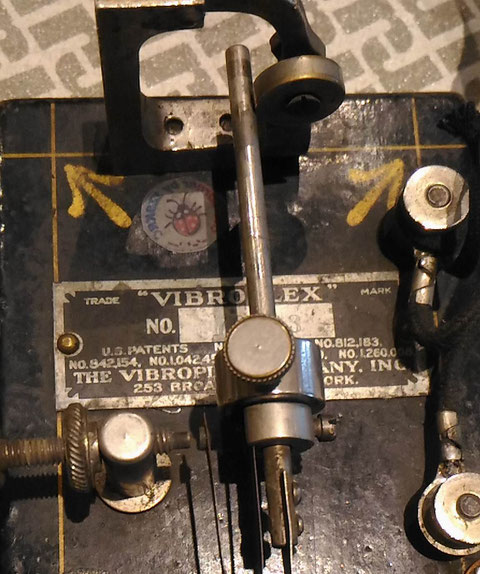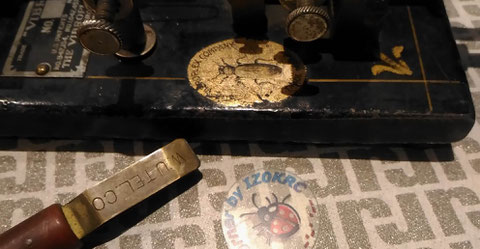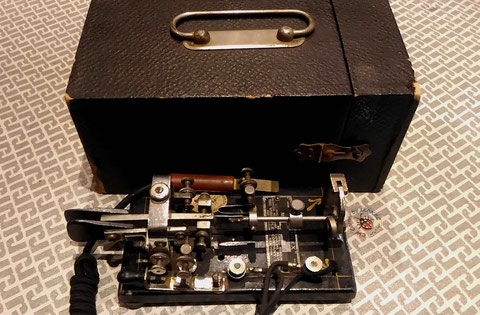 ---
---
---