---

To read in english, please follow down the blue writes. TNX!
---
---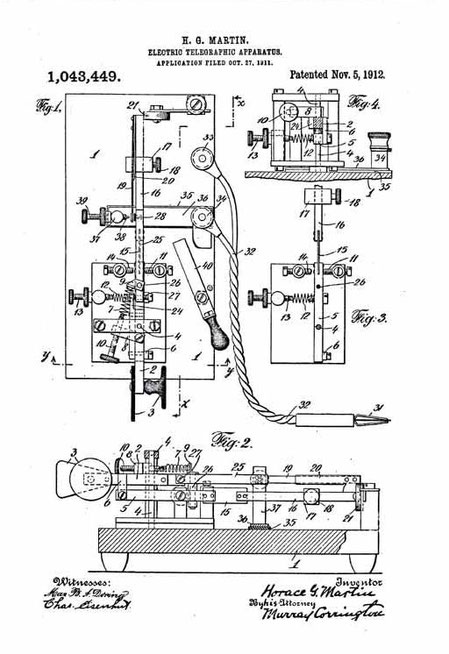 Model-X - Early type.
Il model-X è in ordine il terzo tasto che Martin mise in produzione.
Questo nuova idea nasce con il primo progetto depositato al registro brevetti nel 1911, il primo progetto depositato però aveva delle complessità che indussero H. Martin a presentare un ulteriore progetto nell'ottobre del 1911.
Il secondo progetto è stato presentato all'ufficio brevetti nell'Ottobre del 1911 ed alla fine del medesimo anno entrò in produzione il primo Model-X.
In quel periodo Horace Martin era in uno dei momenti più alti della sua creatività.
Martin diede vita al primo primo semiautomatico a singolo punto di contatto per generare sia i punti che le  linee.
Con questo modello si intorduce per la prima volta il braccio ed il peso di sezione quadrata.
Questo è il tasto meccanicamente più complesso e più affascinanate, sarà una sensazione personale, ma è uno dei tasti a me preferiti.
Questa complessità meccanica si riverbera nell'operatività, il tasto infatti richiede una particolare attenzione durante i "cambi di direzione", questo genera ad velocità medio.elevate un particolare sound, che i telegrafisti più preparati riescono a riconoscere, come una sorta di firma.
Al di là di quanto detto sopra, lo ritengo un tasto molto docile dal fascino inconfondibile.
Dal punto di vista del collezionismo, è da considerarsi un tasto mediamente raro.
Cosiglio, se ne avete la possibilità non fatevelo scappare!
Febbraio 2012.

Model-X - Early type.

The model X is a project with patented in 1911, the first project, however, had filed the complexities that led  HoraceMartin to present a new project in October 1911.
This second project was start at the end of 1911 the production of the first Model-X.

At that time, Horace Martin was one moment of his maximum point of creativity. Horace Martin gave birth to the first semi-automatic single point of contact to product the points that generate both lines.
With this model it intorduce for the first time the arm and the weight of square section.

This is the key mechanically more complex and more charmingly, is a personal feeling, but it is one of the keys for me favorites.
This mechanical complexity is reflected in the operation, the key infact requires special attention during the "change of direction", it generates a speed med-hight a particular sound, the better prepared telegraphers don't fail to recognize It, as a sort of signature.

Beyond the above, I think it is a very docile key charm unmistakable.
From the point of view of collecting, is considered a key medium rare.
TIP OF, if you get the chance to keep one of this, don't miss it!

February 2012.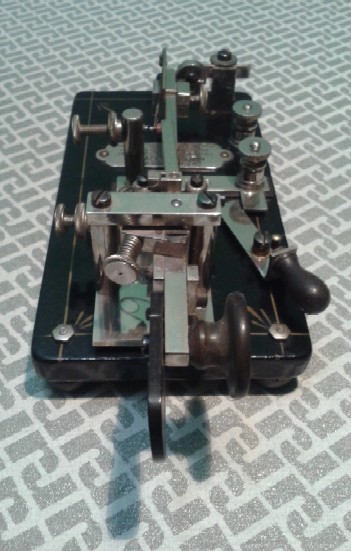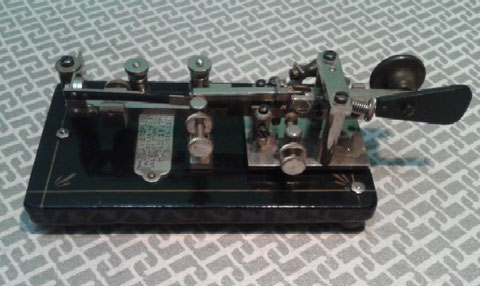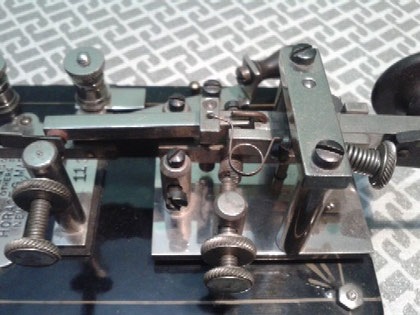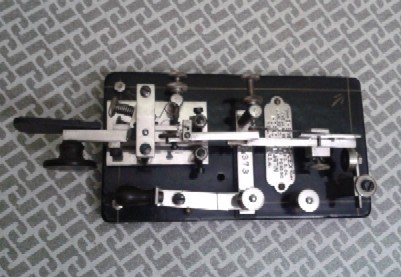 ---
Un altro Early Model-X nichel plate finshed
In fase di rimontaggio dopo la pulitura e conseguente laccatura di protezione.
La laccatura è un processo reversibile e consta di diluire in alcool puro la gomma lacca.
Il liquido che ne consegue viene spennellato con un particolare penello utilizzato nel restauro delle tele ed utilizzato sono nei giorni asciutti e caldi.
_________________________________________________________________
Here another Early Model-X nickel plate finshed. 
When reassembling after cleaning and subsequent lacquering protection. 
The lacquer is a reversible process and consists to diluite a Shellac into a pure alcohol. 
The new liquid that goes with it is brushed with a special paint brush used in the restoration of the old paintings and are used only when the day is warm and dry.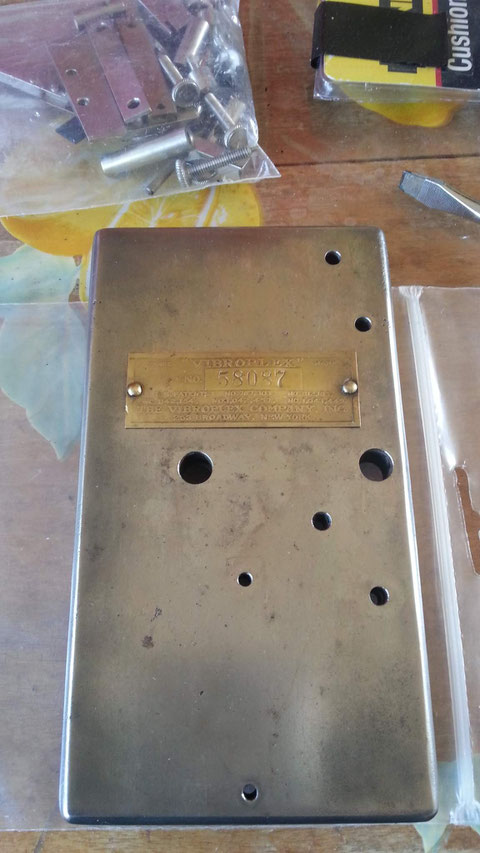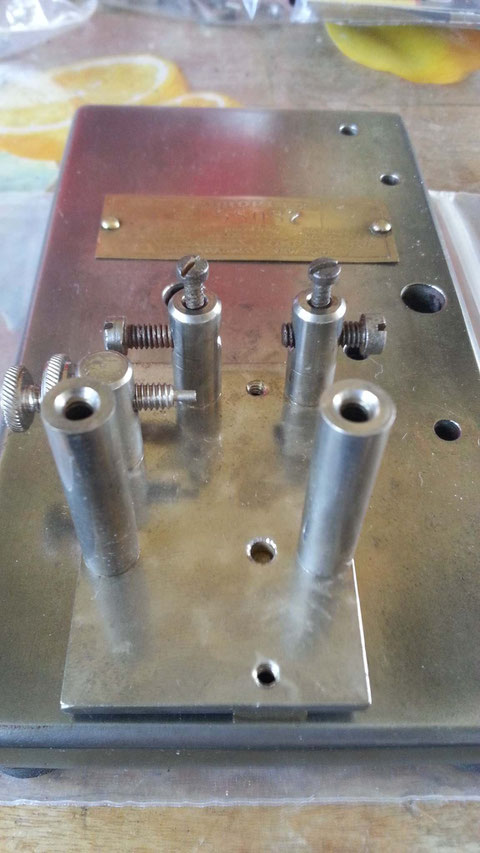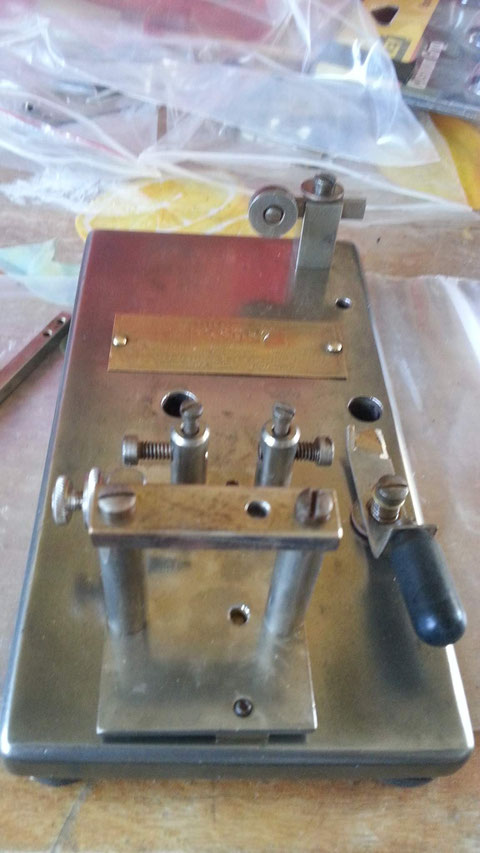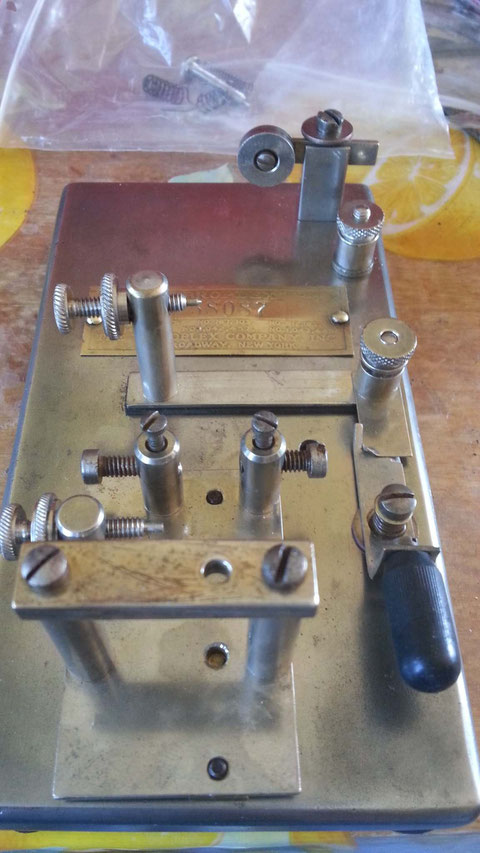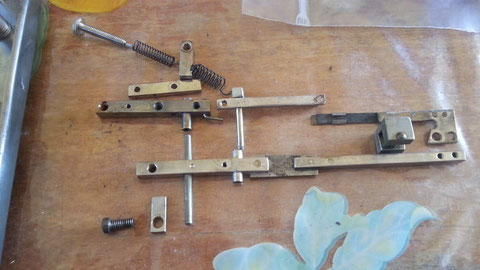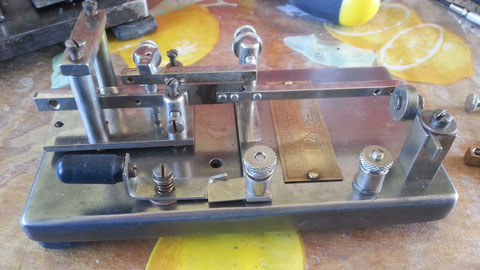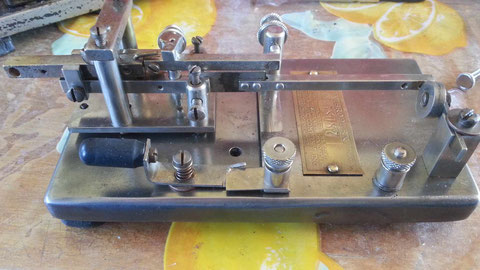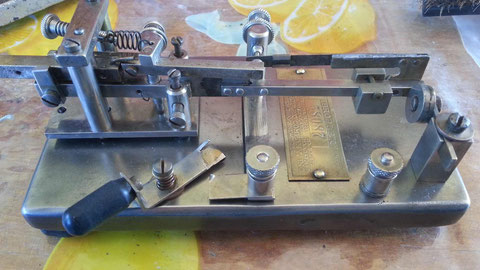 Finita la fase di rimontaggio, eccovi il tasto completamente ripulito.
Devo necessariamente ringraziare Vito IZØGNY per avermi aiutato in modo considerevole nel ripristinare "a nuovo" questo meraviglioso tasto.
La nichelatura sembra quasi perfetta.
Quando lo consegnai a lui, avevo impiegato due giorni a pulire tutto il tasto, la base era completamente nera di sporcizia, tant'è che appena arrivato lo avevo classificato con finitura a abse nera, ma poi con la pasta abrasiva e tanto impegno sono riuscito a pulirlo.
Ma non è finita qui.
Vito mi ha consigliato di portare tutte le parti ancora smontate da lui per passarle nella lavatrice ad ultrasuoni e verificare quanto materiale ancorta no nera stato tolto.
Che dire, il risultato lo avete sotto i vostri occhi.
Ormai la lavatrice elettronica è un accessorio direi indispensabile.
Grazie Vito.
_____________________________________________________
After the reassembly phase, here's the key just cleaned. 
I have to thanks Mr. Vito IZØGNY for helping me considerably in restoring "forward" this wonderful key.
The nickel seems almost perfect. 
When I gave it to him, I've spend two days to clean this key.
When this key come in my house, it have a base completely black with dirt, so much I had classified with finished in coloured black base, but then with abrasive paste and a lot of effort I've done to clean I've descovery it completly nichel plate finhed, with my great surprise. 
But that's not all. 
Mr. Vito advised me to bring all the parts still removed from him to pass them in the ultrasonic cleaner, to check and remove other black dirt material into this parts. 
What can I say, the result you have under your eyes. 
By now the washing machine is an electronic accessory I would say indispensable.
Tanks Vito.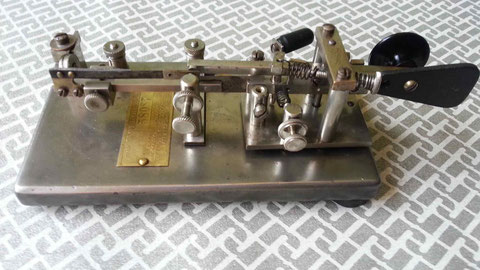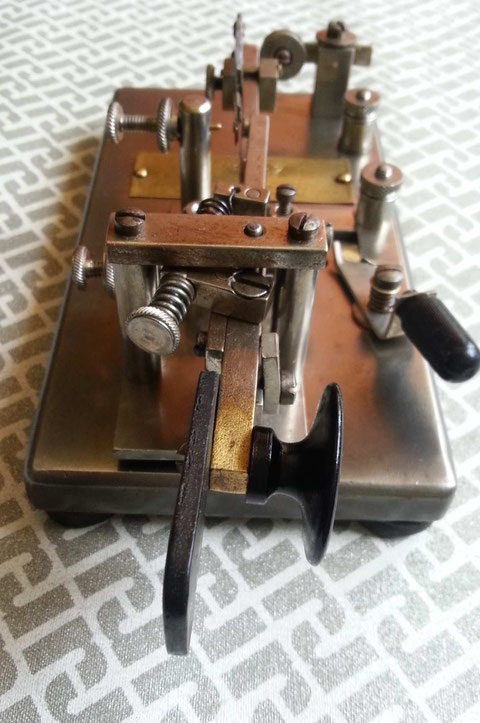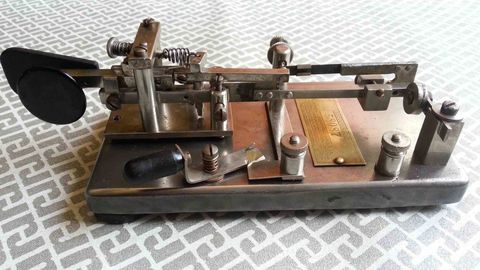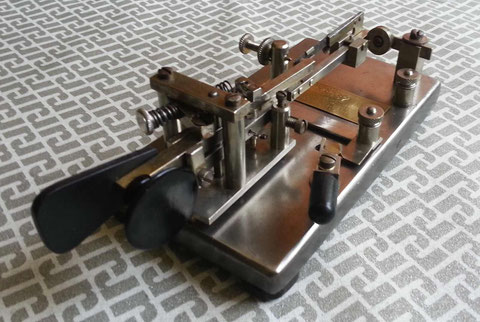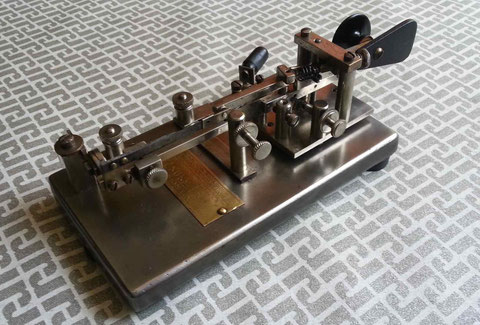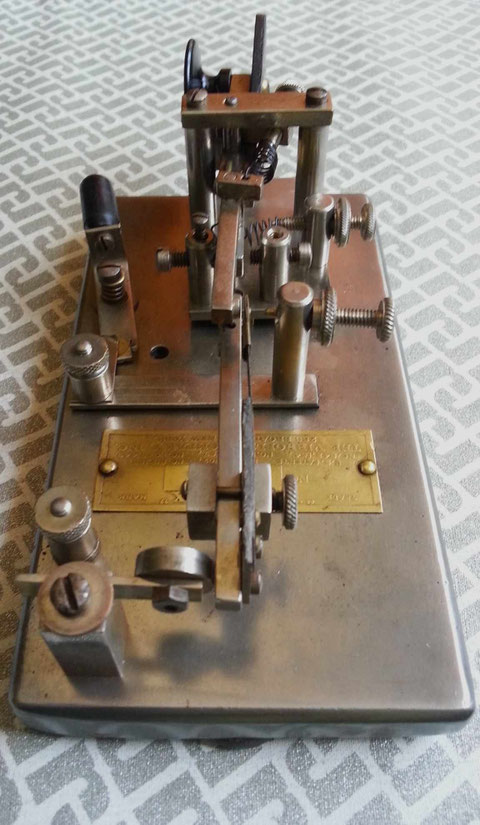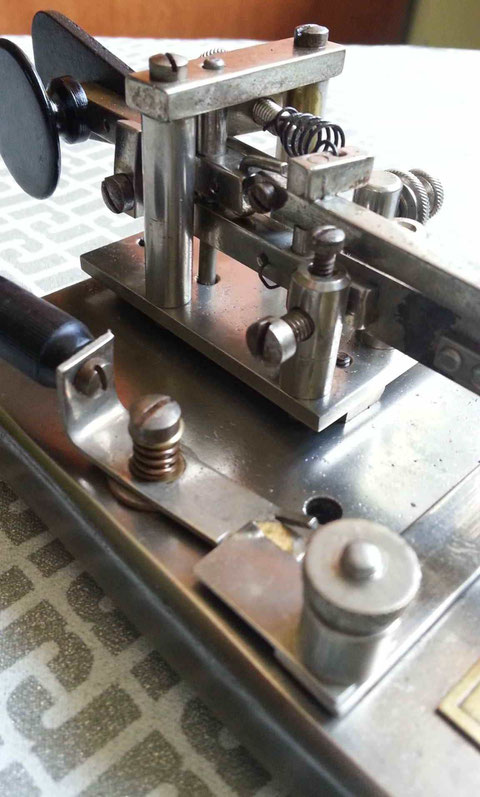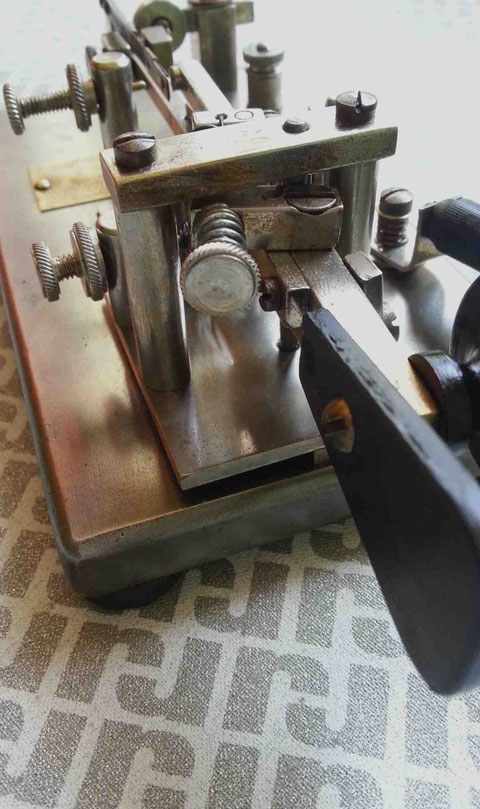 Video with Daniele IKØNOJ during test of very early Model-X 1912
---
---
Model-X
Improved model  or "round shaffle".
La seconda versione di model-X viene presentata nel 1919.
Horace Martin con questo modello ha cercato di migliorare le prestazioni di questo progetto a singolo punto di contatto.
Alcune delle regolazioni principali sono state anticipate e collegate al braccio principale.
Il braccio, come i pesi diventano di forma tonda (da cui l'appellativo Round shaffle".
Il dumper è stato da prima molto semplificato, con una semplice vite (Fig. A) per poi ritornare simile al disegno del Early, model-X, ma con un profilo tondo (Fig. A).
Quest'ultimo tipo di damper, proprio nel medesimo periodo e con matricole 77xxx è stato utilizzato in via del tutto eccezionale, anche nei modelli Original e Blu-racer, all'insegna che per soddisfare le ingenti richieste di tasti, H. Martin all'occorenza adattava i suoi progetti per una vendita immediata.
l'Improved Model-x qui sotto esposto è stato fornito dalla Cloride of Silver Co. alla U.S. Navy, come risulta dai caratteristici codici di colore rosso, stampigliati in ogni parte del tasto "C.A.S."
Febbraio 2012.

Model-X
Improved model or "Round Shaffle".
The second version of model-X are introduct during 1919.
Horace Martin in this model sought to improve performance of this project to single point of contact.
Some of the major adjustments have been anticipated and connected to the main Arm.
The arm, as the weights become round-shaped (hence the title Round shaffle ".
The dumper was much simplified from earlier, with a simple screw (Fig. A) back similar to the Early design, model-X, but with a round profile (Fig. B).
The latter type of damper, in the same period and with serial number 77xxx was used in some models as exceptional, in Original and Blu-racer, this because Martin have to satisfy the enormous demands of keys, Horace Martin fit its plans for immediate sale.
The Improved Model-x below exposed was provided by "Chloride of Silver Co." to the U.S. Navy, as evidenced by the characteristic in red color codes, stamped all over the Key "C.A.S."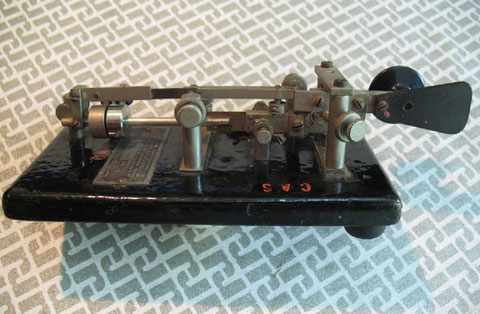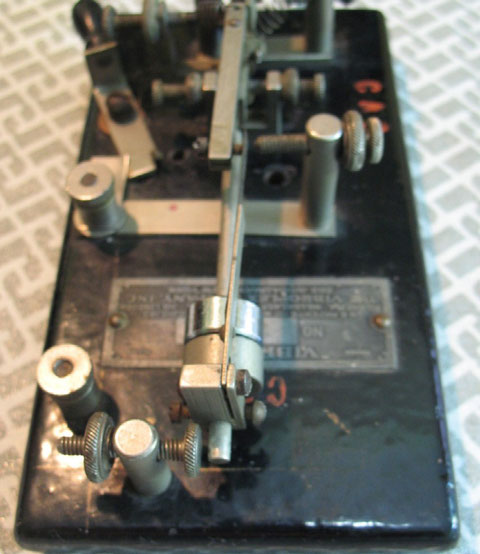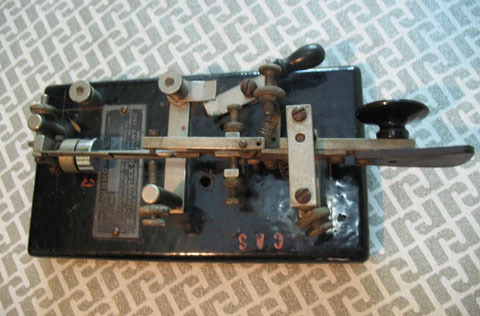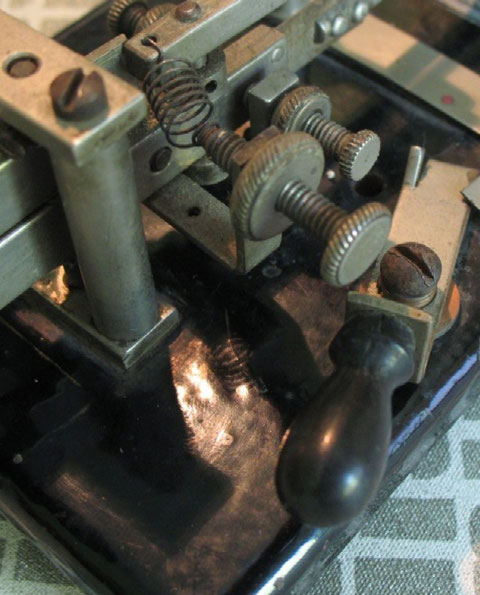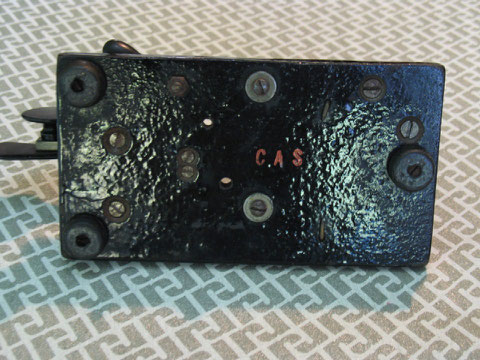 ---
---
Un altro Improved Model-X con finitura Giapponese e logo Vibroplex.
Another Improved Model-X with Japaned Finished and Vibroplex Decal.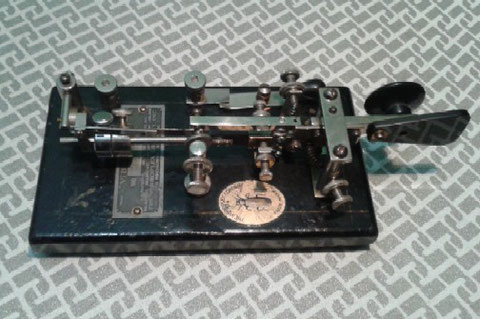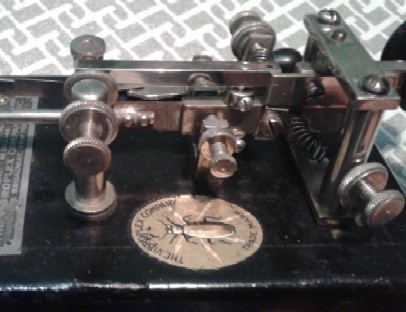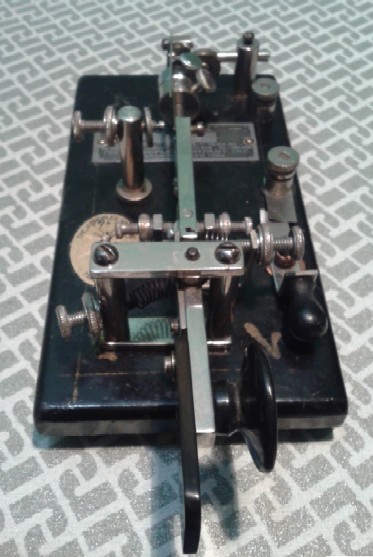 ---
---