---

---
---
Questa pagina è dedicata ai tasti Vibroplex particolari che ho trovato nel corso delle mie ricerche.
This page is dedicate to the particular Vibroplex key that I've found in my research.
---
---
Blue Racer with Model-X frame.
I so call "X-Racer"
Ho avuto la fortuna di acquistare alcuni anni fa su Ebay questo particolare BluRacer.
Per noi Europei è difficile riuscire a mettere le mani su qualcosa di particolare. Gli Americani hanno migliori possibilità di "soffiarci sotto il naso" le cose migliori.
In questo caso c'è stata una proficua eccezione.
Il tasto "parla" da solo. Si tratta di un BlueRacer dove è stato aggiunto il frame ed il pivot di un Model-X.
E' noto che il frame del BluRacer ha i bracci dove sono inserite le viti di regolazione corsa e spinta. Nel caso del Model-X no, infatti Horace Martin ha aggiunto tre fori sulla base introducendo altrettanti piloni con la funzione di regolare la corsa e la spinta del pendolo.
Su questo tasto sono stati fatti diversi ragionamenti e riscontri al fine di sondare l'effettiva originalità del tasto.
Durante le fasi di smontaggio per la pulitura del tasto. Ho verificato tutti i fori praticati sulla base sono verniciati al loro interno.
La targhetta di riconoscimento è intatta, i rivetti di fermo sono originali, e sotto la base non ci sono graffi od altro che possono far pensare rimozioni o modifiche aftermarket.
Il tasto è come uscito dalle officine Vibroplex nel 1920
Con l'aiuto del caro Martin Odenbach DK4XL, dall'alto della sua esperienza, ho avuto la conferma che questo BluRace-X è il terzo che esiste.
Gli altri due sono uno Nero Japaned come il mio e l'altro di colore Rosso. I loro numeri di Serie sono vicini e giustificano il periodo e l'originalità del tasto.
Rimane a tutti dubbio del perché Horace Martin abbia prodotto alcuni tasti "fuori ordinanza", mancanza di materiali su un ordine urgente ?
Prove per testare nuove soluzioni ?
Nessuno lo saprà mai. Al momento rimangono solo questi tre esemplari a testimoniare che a volte è successo qualcosa di diverso nelle officine Vibroplex.
PS. ritengo doveroso ringraziare pubblicamente il caro amico Martin
    DK4XL per condividere le sue conoscenza con gli altri, in puro
    HAM-Spirit.
    Grazie Martin.
 Settembre 2017

Blue Racer with Model-X frame.
      I so call "X-Racer"
Few years ago I boy on Ebay this particular BluRacer.

For Europeans it's very hard to get particular key, because the Americans collector have more chance to "take under our nose" the best things.
In this case the Luck has been de difference.
 
The key is a BlueRacer with particular frame. It's simply a frame of a Model-X.

It's known that BluRacer have on frame the adjust screw to control movement and tension of Pendulum, but in this case this screw don't is on Frame, but on the base.
Horace Martin added three holes on the base of BR, and introducing n.3 pylons with the function to adjust the stroke and the thrust of pendulum.

About this key we have been several arguments to well understund if this key is really made by the Vibroplex factory, or is a fake.

During the fase of cleaning I've disasemble all parts of key, so I've checked all the holes in the base, and it's are all painted into, also the  plate is intact. The rivets are original and under the bese there not have scratches or other damage or sign. THis define that it's all genuine, no aftermarket change was applied.

The key is original and produced by Vibroplex workshops in 1920.

With great help of Martin Odenbach DK4XL, thanks his great experience, he tells me that this BluRace-X is the third that have see.

The other two are one Black Japaned like mine and the other, Red colour.
Their serial numbers are neighbors and justify the time and the originality of the key.

Remains all doubt because Horace Martin has produced some keys "out of order" For lack of materials or for a rush of order ?
For test new solutions ?

No one will ever know this.
At the moment there are only these three examples to testify that sometimes happened of different born in Vibroplex workshops.

PS. My special Thanks to this great friend Martin DK4XK, to share
    every time his knowledge with me, in the purest HAM-spirit.
    Grazie Martin.
 September 2017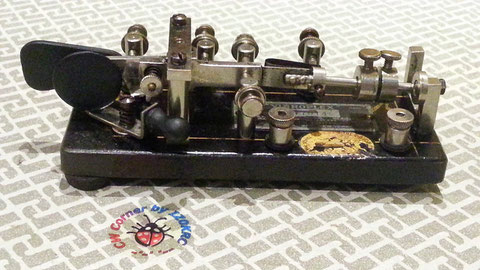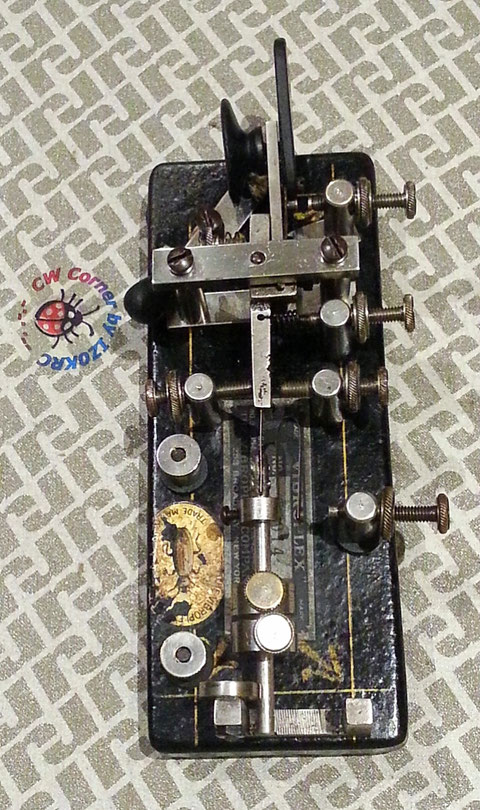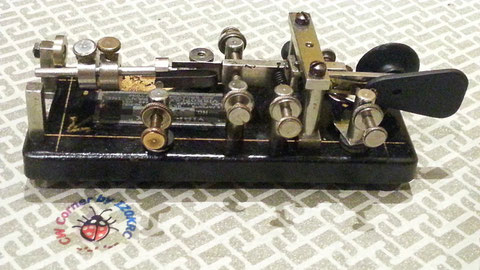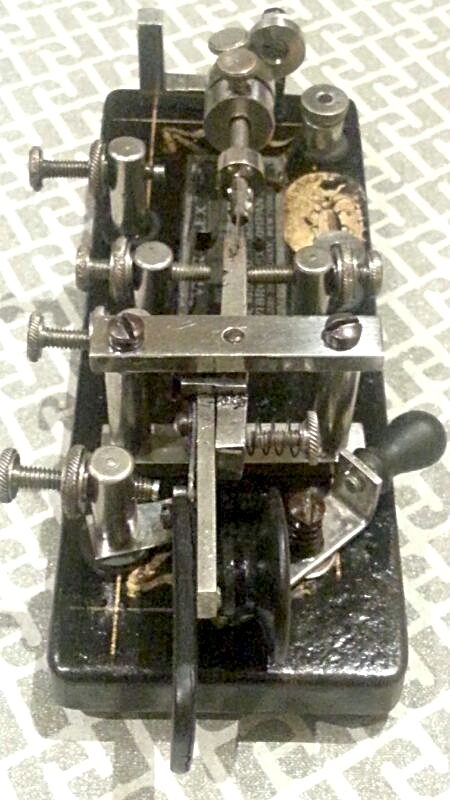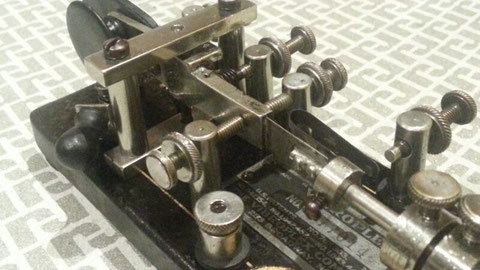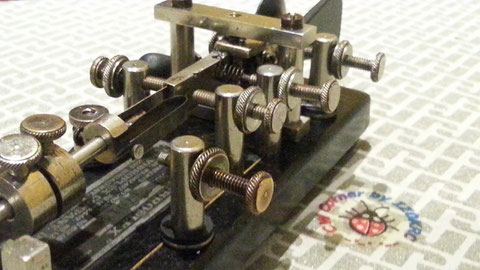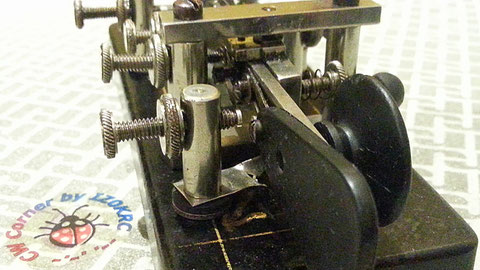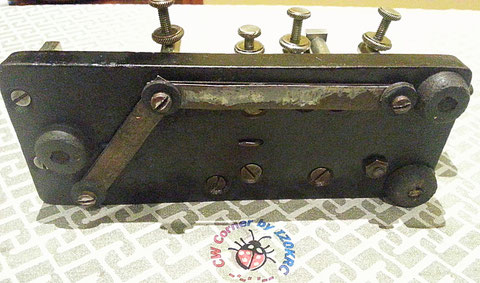 Foto di comparazione tra un classico BluRacer e il BluRacer-X
Comparsion with ordinary BluRacer and BluRacer-X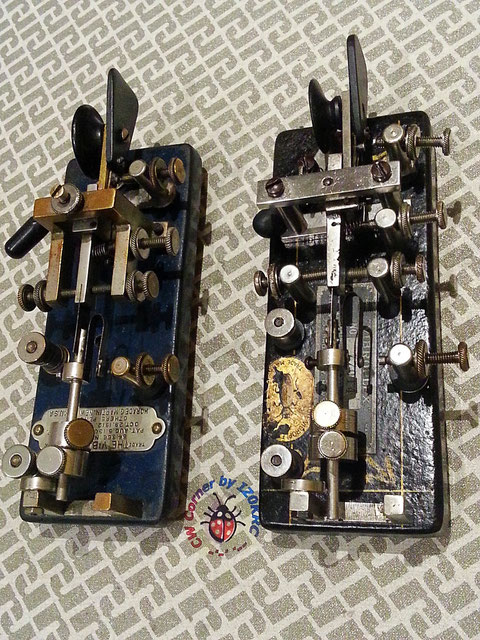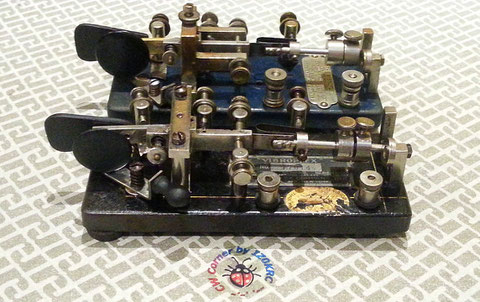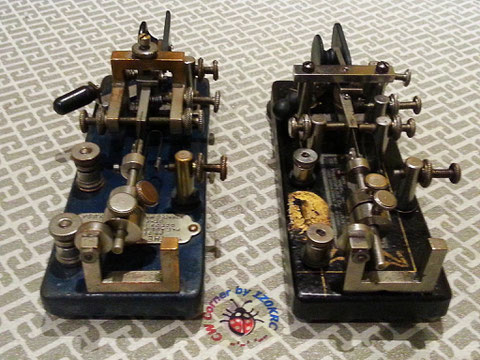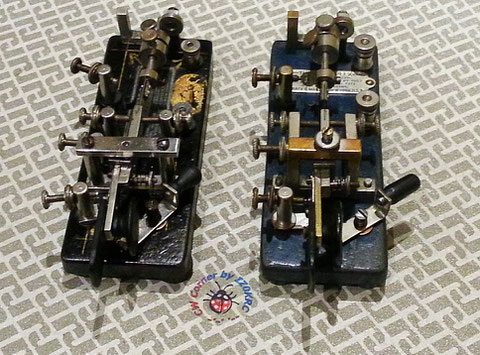 Sono passati un po di giorni dalle comparazioni effettuate tra i due BluRacer ed ho trovato il tempo per effettuare l'ultima comparazione possibile.
Verificare se Horace Martin ha collocato il frame del Model-X su questo BluRacer speciale apportando o meno delle modifiche.
After few days from the first comparisons I've other time to make the last possible comparison.


I've check if Horace Martin placed the Model X-frame of this special BluRacer-X making or not making changes.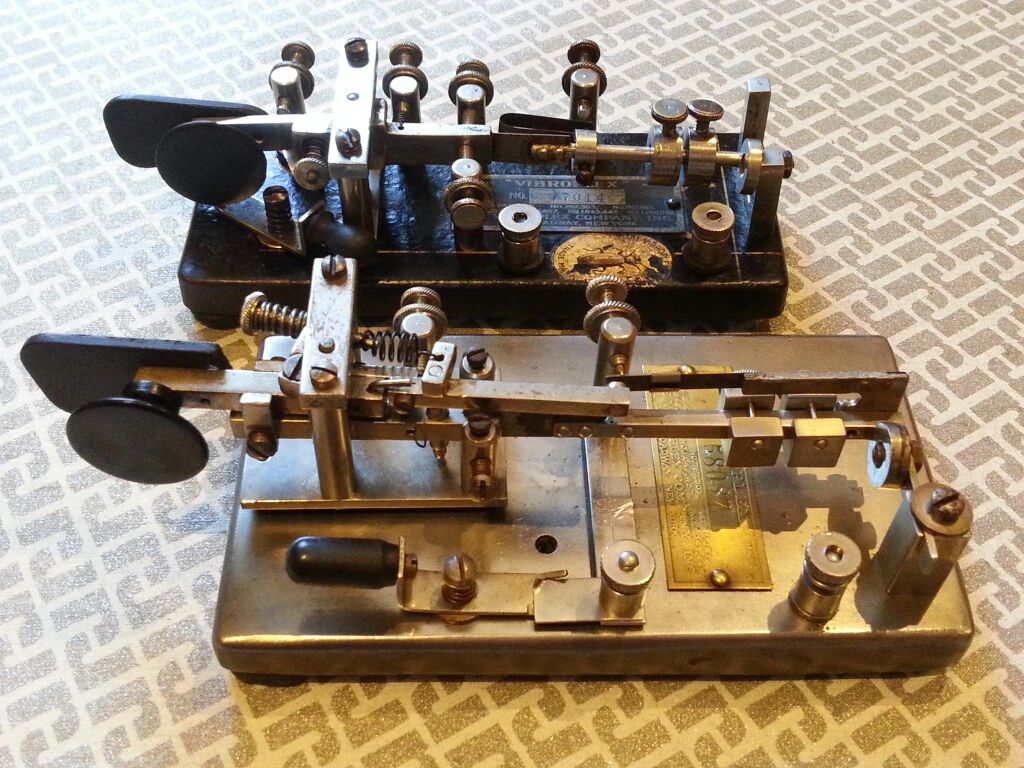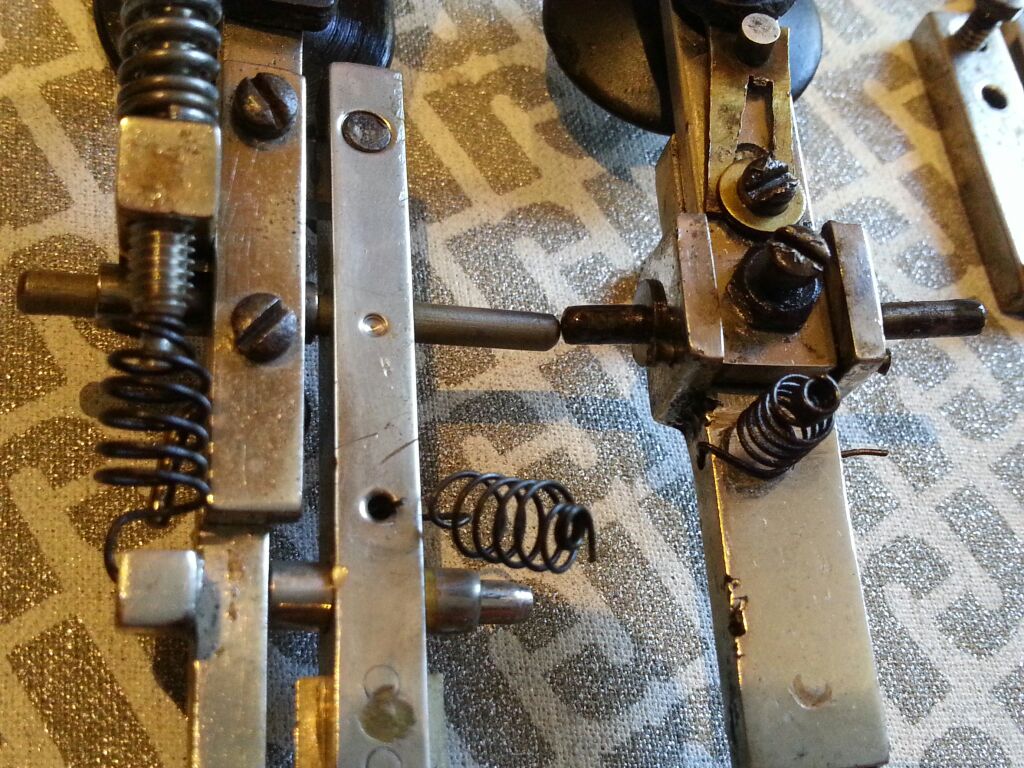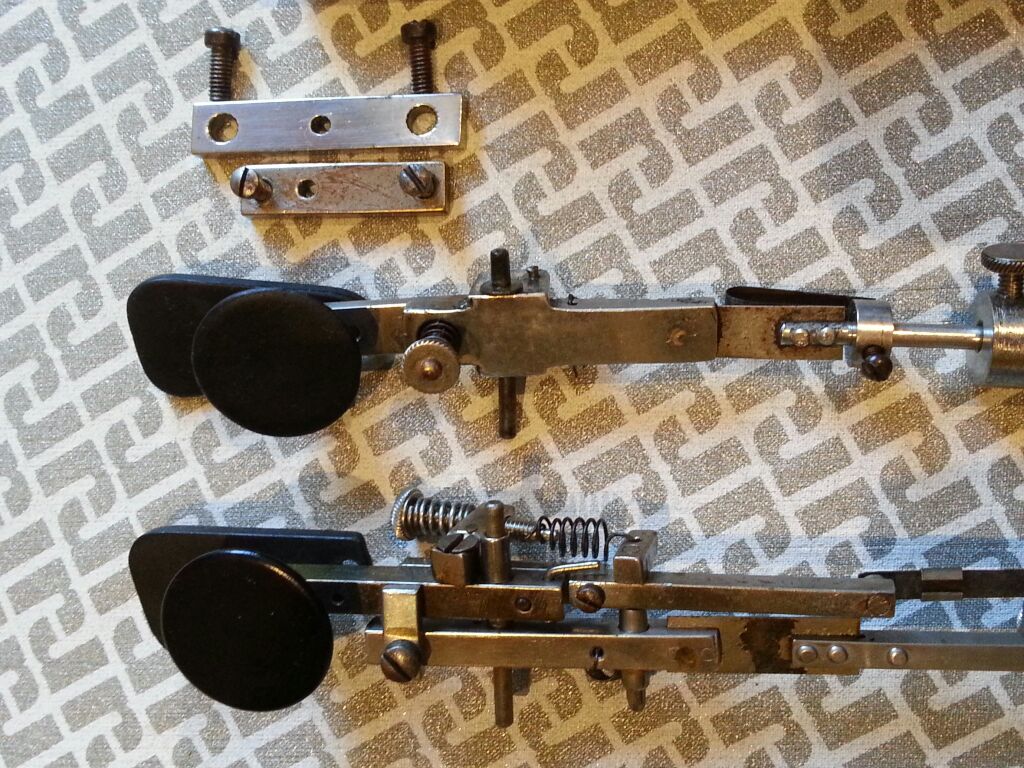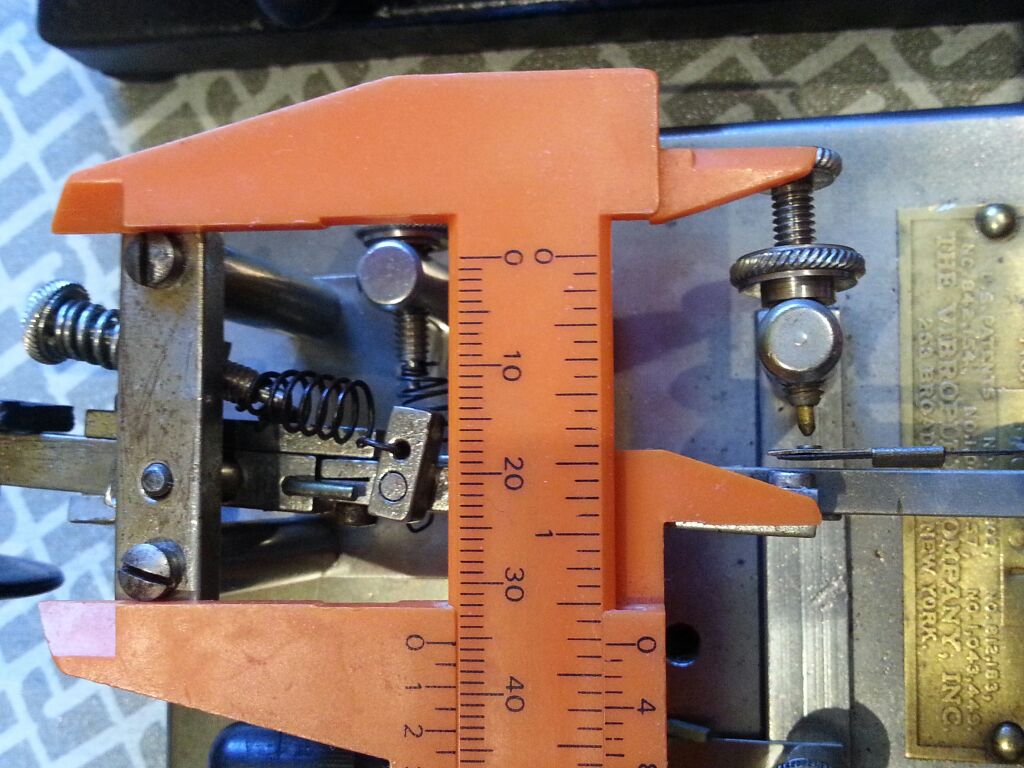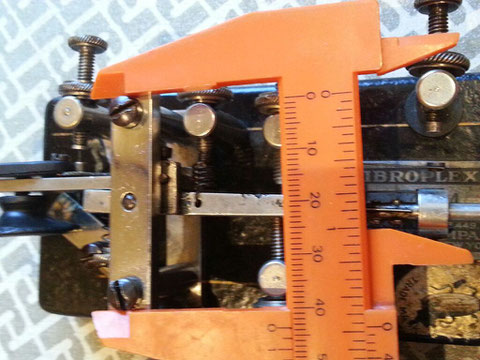 Con le foto qui sopra è chiaro che nelle officine Vibroplex si è lavorato per costruire alcuni BluRacer-X.
Hanno lasciato quasi intatto il progetto del frame utilizzato nel model-X adattandolo al BluRacer-X.
Hanno aumentato la distanza dei due piloni laterali per adattarlo ai fori della base del B.R., hanno aggiunto nella parte superiore del pivot una bronzina per ridurre l'attrito di movimento, nella base non viene adottata la piastra di base del model-X, ma si semplifica aggiungendo una barra uguale a quella superiore del frame.
Solo per dare un giudizio sull'operatività, non ho notato differenze tra il BluRacer classico e questo ibrido-X, rimane quindi il dubbio sul perché ci sia stata questa novità nelle officine Vibroplex ?
With the picture above it is clear that in Vibroplex workshops we worked to build some BluRacer-X.

They left almost intact the frame design of model-X, but adapting little modify to install it on BluRacer-X.

They increased the distance of the two side pylons to adapt it into the ordinary base holes of BR.
In top of pivot a little bushing to reduce the friction of movement.
At the base of frame don't is adopted a base plate like model-X, but it' simplifies add a simple bar, equal to the upper frame.

Just to give a little impression about it's operation, I do not notice differences between the classical BluRacer respect this hybrid BR-X.
11 October 2016
---
---
Transitional model
 Pseudo-X.
Questo particolare tasto telegrafico si suppone sia stato eseguito in pochi esemplari da Horace Martin, come prova per semplificare il Model-X o implementare il Vibroplex Original.
Solo pochi si conoscono in collezione, di cui uno solo in versione sinistra.
Tutti prodotti nel 1920, con numeri seriali molto vicini tra loro su targa tipo C3.
Si tratta di un comune Vibroplex Original, con Dumper ad L (tipico dei Model-X).
La molla dei punti (dit), nell'Original è la classica molla piatta a forma di u con contatto, viene sostituita con una molla piatta lunga ed un rinforzo, simile per lunghezza e forma a quella adottata nei Model-X.
E' un tasto che opera egregiamente al pari dell'Original.
Se ne trovano pochi esemplari forse proprio per questo motivo, si è continuato a produrre il vecchio progetto originario, più noto al "pubblico" dell'epoca.
Sotto un Video del test effettuato dal mio amico Daniele IKØNOJ che ringrazio.
05 Maggio 2017

This particular telegraph key have been executed in a few units, by Horace Martin, I supposed as test to simplify Model-X or implement the Vibroplex Original.
Only a few are known in the collection today and only one of this is in the left version.
All products in 1920, with serial numbers very close to each other on C3 type plate.
It is a Vibroplex Original, with L-shaped Dumper (typical of the Model-X).
The point spring (dit), in Original key is the classic flat spring "U" shaped with contact, in this versione it have a long flat spring and reinforcement, similar to length and shape to the (dit)spring adopted in the classic Model-X.
It's a key that works just well as Original.
There are only a few specimens for this very reason, I tink. So Martin decide to continued to produce the old Original project, better known to the "public" of the time.
Under a test by my friend Daniele IKØNOJ. Many thank to Daniele.
05 May 2017.
---
---
---